HKFS Protest Against Interpretation Law by NPC!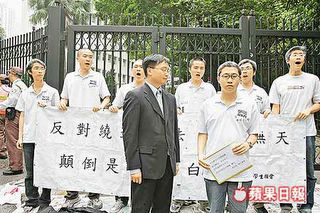 On April 21, the Hong Kong Federation of Student (HKFS), the ASA's member organized a shave hair protest in front the Central Government Office. Picture showed the representative from the HKFS, Erikson send the protest letter to the government representative. Behind them are the different leaders from the HKFS.
Due to the election of the New Chief Executive of Hong Kong have some uncertainties, the current Chief Executive, Donald Tsang submit the proposal to call the NPC for the interpretation of the Basic Law to clarify the term of the Chief Executive.
Such an action caused the worry of the Hong Kong people especially the autonomy and the rule of Law in Hong Kong. This interpretation will be the third time since the hand over from British Colonial to the Mainland China.
Coming Sunday on 24 April will have a mass protest to against the interpretation of the Basic Law. Estimation of the organizer, Civil Human Rights Front that there will be about 3,000 protesters.